The perfect quiche for my family is crustless.  Due to our keto lifestyle, even though I make the perfect eto pie crust, it is still wasted carbs that are unnecessary in this delightful dish.   This dish will never be bland if you follow basic instructions and use creative ingredients.
You can also add different herb and spices depending on the type of quiche your going for.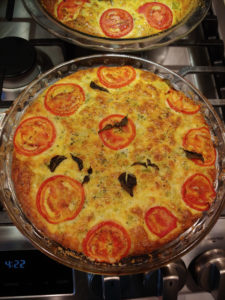 From here follow the instructions for perfect quiche everytime.

This is the perfect dish for breakfast, brunch, lunch or dinner. Use your imagination. Follow the basic guidelines and you will have a flavorful and delicious quiche everytime. Perfect quiche has e a basic guideline: 1 to 2 cups filling (such as broccoli, asparagus, mushrooms, bacon, ham, chicken)  You can also use salmon, or crabmeat 1 to 2 cups grated cheese (such as Swiss, Gruyere, Jarlsberg,  cheddar, or even feta for a greek style quiche 1 1/2 cups liquid (such as milk, cream, coconut milk, almond milk) 3 to 4 eggs
Cook Time

40 to 45

minutes
Cook Time

40 to 45

minutes
Prepare a quiche dish or pie plate by generously buttering the bottom and sides. Drop in the breadcrumbs and swirl until well coated and set aside.

In a large bowl add, broccoli, cheese, liquids, flour, thyme, mustard and eggs. Stir until well blended. Add kosher sale to taste.

Carefully arrange the Roma slices and basil on the top. Sprinkle with pepper and bake for 35 to 40 minutes. Allow to cool for 10 minutes before serving.
Serve with a side salad and or a slice of melon.